South Kensington Store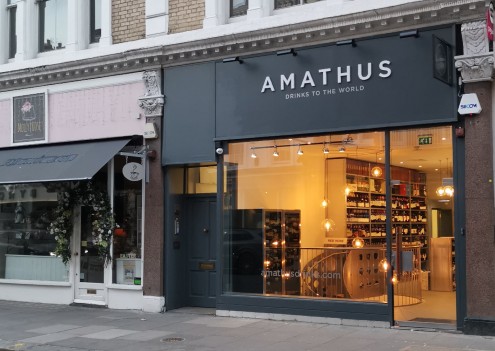 Welcome to our South Kensington page where you can find all the latest tweets, news and events! Keep an eye out for any limited offers and special events that are happening in your local Amathus store.
Please Note: We understand that your choice of product may not always be available in store that are listed on the website. If you are after a specific product, please get in touch with us - If we don't have it in stock, please allow 1-2 working days for the order to be sent from our warehouse. You will receive a call once the order is ready for collection. The in-store prices for products may differ to the prices listed on online.
Address
72 Old Brompton Road
London SW7 3LQ
Opening Hours
THIS STORE IS NOW OPEN
Monday - Saturday: 10:00 - 20:00
Sunday & Bank Holidays: 11:00 - 19:00
Closest Tube: South Kensington 4 minute walk, Gloucester Road 8 minute walk
Telephone: 0207 225 2762
Email: sk@amathusdrinks.com
---
Amathus South Kensington Store Staff
Joe Olding – Store Manager
Joe came to the drinks trade (as most do) accidentally. After a degree in US literature followed by a move to London in 2010, he worked for a number of years in hospitality where he developed his fascination for and love of the world of wine. Life in the capital was interspersed with stints on vineyards in Provence, South Africa and exotic Sussex before starting work with fine wine merchant Jeroboams then joining Amathus in December 2019.
In his spare time he enjoys reading, writing, running, cooking, photography, making friends with the magpies that visit his south London balcony, shouting at people for using leaf blowers and desperately wants to make winemakers wakeup to their wantonly huge carbon footprints and how their vineyards can be havens of biodiversity.
Like a wine geek cliché, he believes that at its best no grape in the world can rival the ethereal brilliance of pinot noir but also loves excellent viogniers, spicily oaked chardonnays and believes all dinners should start with a vesper martini.
Favourite Tipple – Elk Cove La Boheme Pinot Noir
Michael Huband – Assistant Manager
Michael is one of Soho's Assistant Managers and he has been with Amathus since 2018. After a brief folly in teaching taught him to hate children (but love wine), he worked in fine dining restaurants and independent wine shops before moving to the big smoke. Michael literally opened his interview by declaring, "I'm pretty unfaithful – I love all sorts of wine," but if he had to pick favourites, he would opt for anything Spanish, South African Chenin Blanc or quality Nebbiolo. But honestly, if it's a decent bottle, he'll drink it.
After two years working with Sam, he's also now prone to dalliances with spirits (Cognac and Irish whiskey being particular weaknesses). He is passionate about wine education, having passed his WSET Level 3 courses in wine and in spirits (with the diploma a work in progress) and recently qualified as a wine educator. Outside of work, you can find him at your local theatre, sourdough bakery or bird-watching hide.
Favourite Tipple – Sandro de Bruno Soave