Notting Hill Store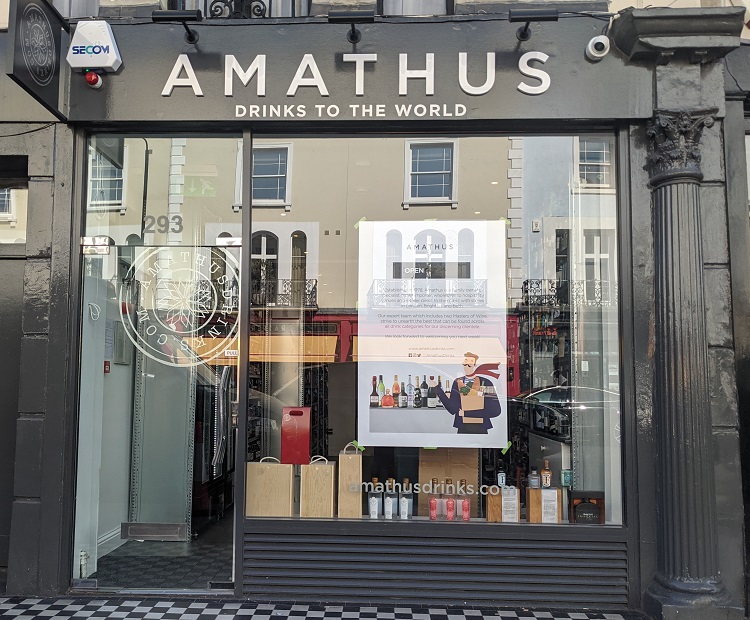 Welcome to our Notting Hill store page.
Our newest Amathus store is now open, so you can drop in and see us in the heart of vibrant Notting Hill!
We'll have all the latest store information, news and events here. Alternativesly, you can email us to find out what's going on, or if you want some drinks advice - we're happy to help.
Address
293 Westbourne Grove
London W11 2QA
Opening Hours:
Monday - Saturday: 10:00 - 20:00
Sunday & Bank Holidays: 11:00 - 19:00
Closest Tube: Notting Hill Gate or Ladbroke Grove stations, both 8-10 minute walks
Telephone: Coming soon
Email: nh@amathusdrinks.com
---
Amathus Notting Hill Store Staff
Pippa Mistry-Norman – Manager
Pippa found her way into wine after a lifetime of wanting to teach Latin to schoolchildren. After completing a degree in Classics & Theology in Exeter, she went off travelling in the US for a month. In a wine tasting room in San Francisco's Ghirardelli Square, she had a great chat with the hosting sommelier and once back in Blighty, began her career in the wine and spirits industry.
Starting at 67 Pall Mall in 2015 as a Junior Sommelier, she enjoyed tasting everything vinous, fine and rare. Wanting to leave hospitality behind her, Pippa took up the mantle in retail at Jeroboams Wine Merchants and for four years was the assistant manager at six of their eight London stores.
Nowadays, Pippa can be relied upon to wax lyrical about her specialisms in champagne, burgundy, sake, and the English wine scene. When she's not pondering her next purchase, you can expect her to be playing autoharp, dining around London's glorious restaurant offering, or playing Assassin's Creed while enjoying a glass of rum…
Franck Scarduelli – Assistant Manager
Franck is an Italian-Brazilian who moved to London in 2018. Since then, he has worked in pubs until July 2021 when he left the wondrous world of hospitality and joined the Amathus family.
He spends all the free time he can traversing the globe and acquainting himself with different places and cultures. When he is not globetrotting, he loves to relax at home reading books and support his favourite football team, Palmeiras (Avanti Palestra!).
He found his passion tasting wine and spirits, and sharing the experiences with anyone who is ready to listen. His true love is wine and the winning region for Franck is Tuscany... you simply cannot beat a quality Chianti Classico!
Ben O'Donoghue – Wine & Spirit Advisor
Ben joined the drinks trade after flirting with degrees in both Comedy and Musical Theatre, and realising neither were as fun as drinking great wine.
He dipped his toe in with a brief stint at Vagabond Wines, sipping such top wines as Tignanello and those of Ben Glaetzer, before moving to within a 2-minute walk of natural wine bar and Loire specialists, 161 Food + Drink. Almost immediately he took a job, pouring pet-nats and orange wines, and gaining an appreciation for low intervention wine (and the Kernel Brewery!).
The pandemic called for a shift to retail with London legends St JOHN; a great time selling from their Francophilic wine list doubled-down on his French wine fixation. He had, however, wanted to work for Amathus since his very first visit in 2017, and finally got the chance to in May 2021.
When not extolling the virtues of Burgundy to Amathus customers, he can usually be located either in a theatre, gallery, sampling Borough Market's wares or simply at home, probably with a drinks book and a Negroni.